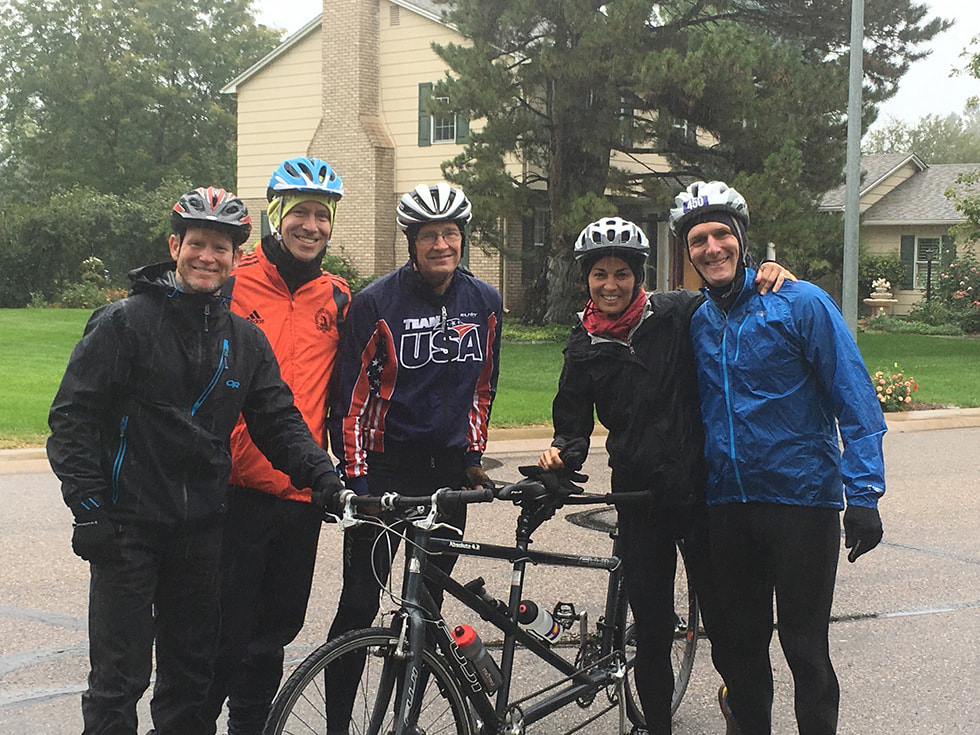 This week:  We recap Ironman Lake Placid and we catch up with Dan Berlin, a blind endurance athlete, cyclist and Ironman.  Dan is a member of Team See Possibilities.  Dan Berlin and his guides go on epic endurance challenges never done before by a blind athlete, inspiring each individual, with or without disabilities, to go beyond their perceived limitations. They share inspiring stories about their history-making challenges with local children and their communities, and through the media, share them with the world.
Dan is the Co-founder and CEO of Rodelle, a world leading vanilla extract company, Dan grew up in the chocolate town of Hershey, Pennsylvania and now lives in Fort Collins, Colorado with his wife and two children.  Over the course of twenty years, Dan gradually lost his eyesight from cone-rod dystrophy. He struggled with the limitations of his new reality, but instead of simply feeling sorry for himself, he came up with a new way to approach the rest of his life.
​He decided, despite his blindness, to become a marathoner.  Dan has since run twelve marathons, including NYC and Boston, completed several triathlons, was the first blind athlete to run across the Grand Canyon and back, ran the Inca Trail to Machu Picchu in less than 13 hours, and recently completed his greatest challenge to date: climbing to the top of Mt. Kilimanjaro in two and a half days.  Contact details below.
Our Endurance Hour channel on Youtube has seen over 6.7 million visitors and we have more than 2,000 videos  ranging from Swim, Bike and Run Tutorials and Demonstrations, Product Reviews, Interviews to Ironman Triathlon and Xterra race coverage, Product Reviews, and Podcast Episodes.  We've been producing and uploading more than 250 pieces of original video content every year since we launched in 2011.  Our channel serves as a living archive of high quality, educational and entertaining video content. You won't find another channel on Youtube with as much sports and fitness variety as we do.
If you have any questions, topics or suggestions, email us at endurancehour@gmail.com or  send us a voicemail to Speakpipe.com/Endurancehour. Thanks for listening!
2018 FEATURED TRAINING PLANS:
Ironman 70.3 Training Plan for Beginners: 16 Weeks (Course Details) 
Ironman Training Plan for Beginners: 16 Weeks (Course Details) 
Couch to Sprint Training Made Easy: 16 Weeks (Course Details)
Couch to Olympic Training Made Easy: 16 Weeks (Course Details) 
Couch to Ironman 70.3 Training Made Easy: 24 Weeks (Course Details) 
Couch to Ironman Training Made Easy: 32 Weeks (Course Details) 
Show Notes / Resources:
Endurance Hour Youtube Channel
Dan Berlin featured in Denver Post
33% Off Training Peaks Discount Code
Signup to receive an ALL-INCLUSIVE 33% off discount code for any Endurance Hour training program purchase on Training Peaks. Enter your email address below and we'll show you the code right now! Happy training, racing or recovery!
Podcast: Play in new window | Download