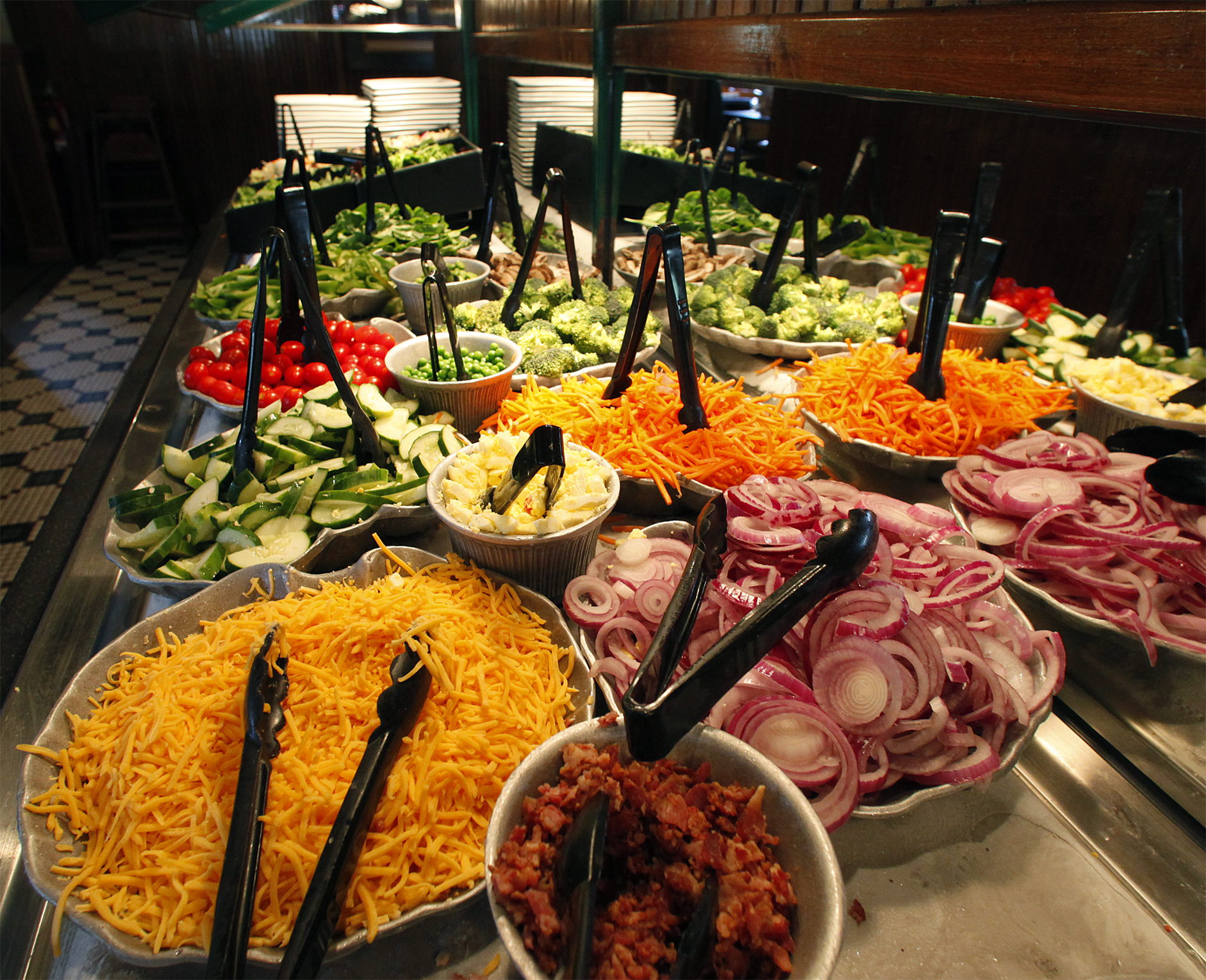 In an attempt for quick and easy meals, I'm sure it is to no surprise that salad bars are top of the list for making this happen. Most health food stores have salad bars so if you're traveling and in a new city, you can either Google the local health food store or even try to find the closest Whole Foods Market. When using the salad bar, there are a few guidelines to follow to optimize your meal choice.
1) Use dark leafy greens as a base: The darker the green, the higher the nutrition. There are usually a few different options for greens so opt for the spring mix or spinach as your base.
2) Eat balanced: I'm sure you're sick of me saying this but too bad. No matter what, when, or where you eat, eating a balanced meal is important. To do this:
Add complex carbohydrates: Legumes such as chickpeas or kidney beans, as well as whole grains such as quinoa or brown rice are a good source of complex carbohydrates. If this is a pre or post-workout salad, add in quicker-acting carbs like root vegetables (beets, potatoes, sweet potatoes).
Add a good source of protein: Protein is key to feeling satisfied and full. Into your salad, add chicken, hardboiled egg, or salmon.
Add a good source of fat: Fat helps you to stay full longer and keep your blood sugar balanced so it is important to have fat in your salad. Add avocado/guacamole or olives, for example.
3) Always more vegetables: After your base + balanced macronutrients, add a ton of vegetables. The more color and texture variety, the more interesting and flavorful your salad will be. Try carrots, roasted beets, tomatoes, sprouts, broccoli, onions, bell pepper, and the list goes on…
4) Extra Add-ons: These can either be great boosters or can sabotage your whole quick and healthy efforts. Skip any croutons, noodles, or fake bacon bits. Add any nuts, seeds, or fruit available.
5) The great cheese dilemma: This is where you have to use your better judgment. Most of the time, cheese at salad bars are not high quality and should not be used. This usually is in the form of stale looking shredded cheddar cheese. Occasionally, there will be fresh mozzarella or fresh looking blue cheese or goat cheese crumbles, which are fair game as a topping. Just take a second to think before reaching for the cheese.
6) Dressing: This is the hardest part of the whole salad process. Chances are, all of the dressings will contain poor quality oil. Thankfully, most salad bars have olive oil and a vinegar selection available. Stick to that or if they offer marinated beans or sun-dried tomatoes, those can be great "dressings" as well – although also exercise caution with those as well for bad oils and read the label. I also like to add sauerkraut or some sort of fermented food as a dressing stand-in if that is an offering available. If all else fails, check if they have packets of dijon mustard or buy a lemon and squeeze that on top. Bottom line: keep it simple and build a mega salad that has plenty of flavor before the dressing so that the dressing isn't the star.
The most important element I want to encourage you to do is GET CREATIVE! I, for one, really like hot food and get sick of the cold salad bar options. In your quest to build a fast healthy meal, mix and match with the hot bar to keep your salads interesting and tasty.
To optimize exercise performance, check out http://www.trailsidekitchen.com to get delicious recipes and start the Trailside Method today!
There is a Cardio Endurance Program or a Strength Training Program with three different levels that vary by exercise type and intensity.
Program includes:
Weekly Challenges
Macronutrient (carbs, protein, and fat) education
Lifestyle Level guidelines
Performance Level guidelines
Training Level guidelines
Goal setting chart to track progress
Digestive Health, Blood Sugar, and Adrenal Fatigue questionnaires
Food and Activity Tracker example – how to track in order to identify patterns
6 weeks of meal plans and shopping lists!
Article Source: Here
Leave us a VOICEMAIL question anytime from your laptop, desktop or cell phone.

If you'd like to be a guest on the show or know someone who should be on the show, email  Dave@DaveEricksonMedia.com with "Podcast Guest" in the subject line.  Brands, Sponsors and Collaborators, please email us with "Podcast Partnership" in the subject line.
The Endurance Hour is a Dave Erickson Media Production.
Connect with the host, Dave Erickson:
Instagram: Here
Twitter: Here
LinkedIN: Here