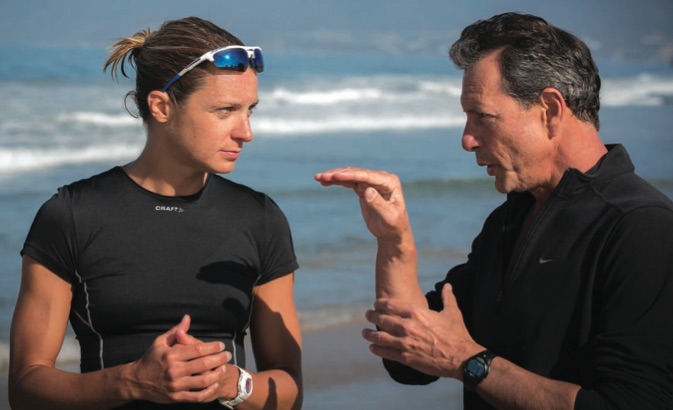 This week Dave and Wendy answer the following question from Laura via email: 
"I am entering my third season of triathlon and have signed up for Chattanooga Ironman in September. This will be my fourth full distance, and I am looking for a coach for the season. I have had two different coaches in the previous two years, one being a very good swimmer and the other being a very good runner. I have been a runner for many years, but since that is my strength I like to try to maintain that fitness. The swim is my weakest and I am an average cyclist. Fortunately I am one of those people who gets to spend most of the day passing people, which can definitely be a morale booster! It seems like all the coaches I have spoken with are strongest in one of the three disciplines, so I am unsure how to pick my area of greatest need. I am also considering online coaching, but I am looking for guidance on good questions to ask to gauge a good fit.  I need suggestions? Thank you so much for your help, and I love listening to your podcast!" – Laura
If you have a question you want featured on the podcast, email us at endurancehour@gmail.com or  send us a voicemail to Speakpipe.com/Endurancehour. Thanks for listening!
Show Notes / Resources:
Swim and/or Run Form Analysis Sign Up (FREE)
Endurance Hour Youtube Channel
Ironman 70.3 Training Plan for Beginners: 16 Weeks (Course Details) 
Ironman Training Plan for Beginners: 16 Weeks (Course Details) 
Couch to Olympic Training Made Easy: 16 Weeks (Course Details) 
Couch to Ironman 70.3 Training Made Easy: 24 Weeks (Course Details) 
Couch to Ironman Training Made Easy: 32 Weeks (Course Details) 
T2Endurance Swim Club
Receive a new "Swim Workout Video" every week for 24 weeks, FREE, from Coach Wendy Mader and Dave Erickson
Podcast: Play in new window | Download
Subscribe: RSS