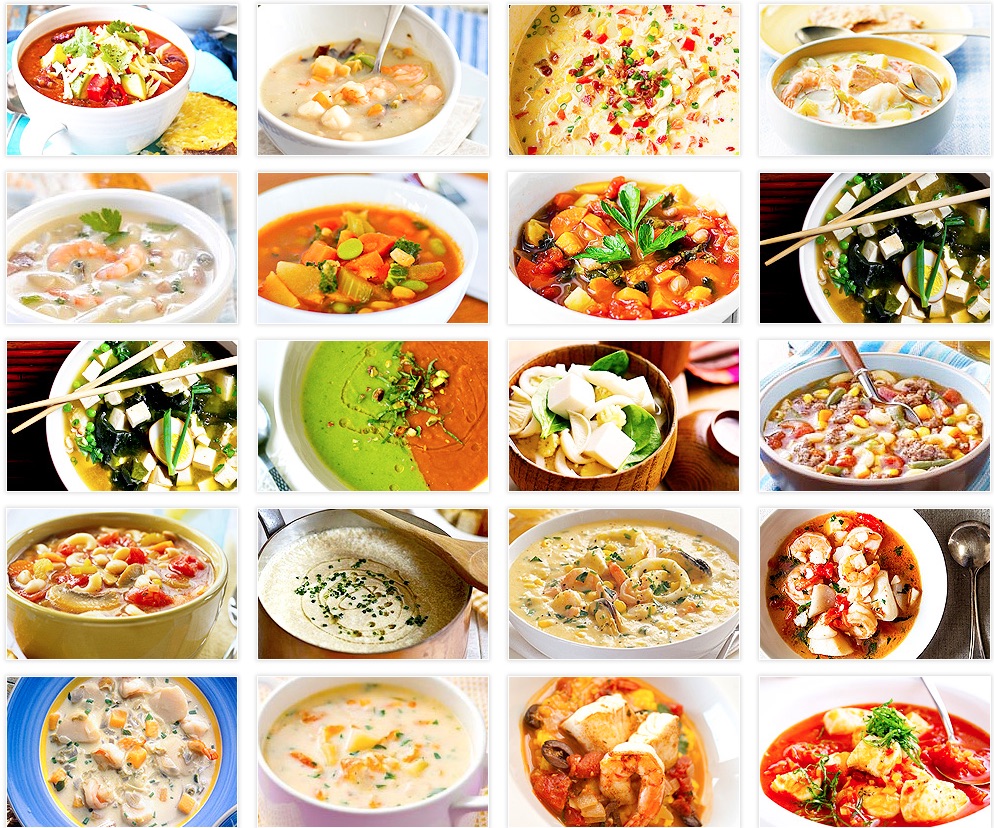 By Sheila Griffin:   Studies have shown that a person's daily calorie intake can be reduced by as much as 20% by trading their lunch meal for soup, also people who included soup with their lunch eat less at dinner time. In fact any meal with high water content, like broth-based soups, will impart a feeling of satiety (fullness).
Generally, the idea of a diet is to eat food that provides nutrition and satisfaction, which is a condition that is far removed from the average human being's eating habits. The input of mind games and phobias has entered the diet arena over the last couple of decades, and the idea that people overeat because of the percentage of stress in their life, is bearing more and more credibility.
They perhaps need to realize that they are not alone, and there are many like them who suffer needlessly, but the answers are obtainable. There is enough knowledge out there to educate those people, and perhaps coerce them to try to change their food addiction based on dietary facts.
The Best Soup
With hundreds of choices of soup in cans, and dry in packets, the best selection is always the home-made soup. You don't want the sugar, the MSG, the coloring, or the preservatives; you want simple, tasty, filling soup, made from fresh and cleaned produce.
Slip Soups into Your Diet Plan
Use your soup as a main meal, and if it's a spicy one, drink a large glass of water with it – that satisfaction will last a couple of hours. Or have soup prior to your lunch and you may last until late in the evening before you want to eat again, and then only want a snack. Store extra and left over soup in the fridge for between meal snacks; maybe a gazpacho soup ice-pop (!).
An Easy and Healthy Soup Recipe
Ingredients:
• 1 tbsp extra-virgin olive oil
• ½ cup onion finely chopped
• ½ cup celery finely chopped
• 1 carrot finely chopped
• 1 clove of garlic mashed
• 4 cups chicken broth, preferably home-made.
• 3 tomatoes, without seeds chopped
• ½ cup spinach finely chopped
• 1lb of pre-soaked overnight, and cooked kidney beans or chickpeas – drained and rinsed
• ½ cup uncooked whole wheat pasta (shells or chopped spaghetti)
• 2 level tbsp basil
• 1 level tbsp thyme
Method:
Heat the oil in sizable pot. Add celery, onions and carrots and cook till soft. Then add the garlic and cook over a slow flame for another 2 minute. Stir in the broth, beans, pasta and tomatoes, and heat till boiling. Simmer for 10 minutes. Add basil just before serving.
JOIN THE 3030 ACCOUNTABILITY CLUB
Does the following sound like you?
- Need motivation, support, and guidance in your pursuit of fitness
- Looking to get in-shape for an upcoming event or activity?
- Unsure of how to get started and what to do?
With a combined 50+ years of experience Weight Training, Ironman Triathlon racing, Bodybuilding, and One-on-One Coaching, the Endurance Hour Team of Dave Erickson and Wendy Mader can help!
We will send you a new 30 minute workout everyday for the next 30 days to your phone via video/text message (6 Days On, 1 Day Off: Active Recovery)
Here's how it works. You'll first get a personalized video the day before your workout followed by a text version. If applicable, you'll also get a private video link to demonstrations on how to perform each exercise.
Your job is to complete the workout and then text us back photo-proof in the form of watch data, sweaty selfie, equipment display, etc. Your choice. That's it.
It's a daily accountability support system designed to boost your fitness goals, habits and lifestyle. You can do this and we can help!
Choose between two options:
Strength and Conditioning
Equipment: Dumbbells and/or Body Weight
Strictly Cardio (4 Plans)
Run Only, Bike Only, Swim Only or bike/run combo
All Bike and Run Workouts are Based on Your Rate of Perceived Exertion.


Membership is only $59 - All Sessions Begin the First of Every Month - Limited to 20 New Athletes Each Month - Signup Early!