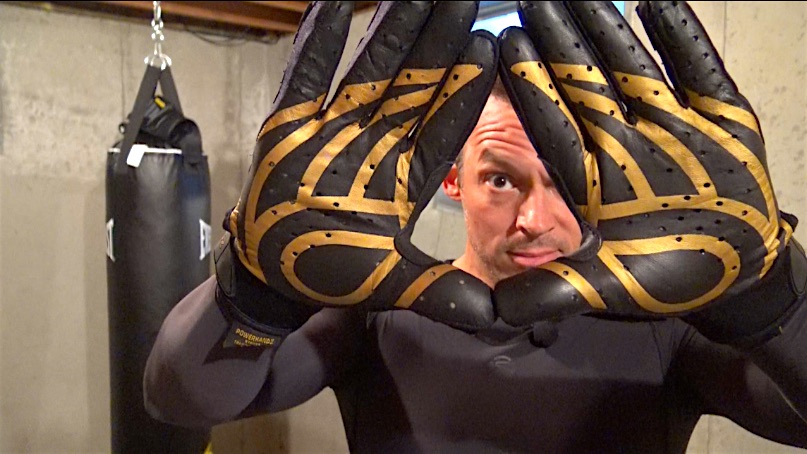 POWERHANDZ are performance-enhancing sports gloves and athletic training products designed to both strengthen hand and arm muscles and intensify players' dexterity.  POWERHANDZ offers three sets of premium, patent-pending weighted training gloves: Pure-Grip, Anti-Grip and Extreme-Grip. They are designed for Baseball/Softball, Basketball, Football, Golf and General Sports Training. POWERHANDZ also makes a Basketball Slick Wrap which wraps around the circumference of a basketball during training.  All products are designed for skill development training for athletes of all ages and are available on powerhandz.com.
The pair I ordered and reviewed are the POWERHANDZ Striker Training Gloves, which have weight distributed across the top side of the glove.
Weight resistance on the gloves improves strength in the hand and arm muscles
Increased hand speed
Improved confidence once gloves are removed

Pouches of iron sand strategically placed around the hand flex points

Stretch fabric provides durability and flexibility during movement

Lycra gussets provide a breathable fabric and snug fit
I like to hit the heavy bag before and sometimes  after my indoor trainer rides in the basement or after running on the treadmill.  Sometimes, I'll just head to downstairs and punch and kick the heavy bag for 30-40 minutes and incorporate high intensity interval training sessions.  My favorite heavy bag workout includes a combination of punching and roundhouse kicks.  I'm currently working towards earning my black belt in Taekwondo.  I started taking classes in September of 2015.
See Cross Training and Strength Workout Videos – Click Here
I've always been a fan of boxing as a form of cardio training so I was very excited and interested in testing out the Striker Training Gloves.  I like the idea of increasing my punching endurance and arm strength.  After my first two workout sessions, I'm positive these gloves will deliver.
Here are some recent online reviews for POWERHANDZ Striker Training Gloves from customers.
If your a fighters this will help get your hands faster def. a great investment – Trapaveli

I love the striker gloves! They definitely took my training to the next level. The additional weight and resistance provides a new challenge to any workout. Highly recommend them for anyone in the fight game. – George
Purchased as a birthday gift for my grandson!!! He loves vets them his basketball coach and trainer are now encouraging all his team mates to purchase a pair also – Millie

There great my speed and technique has gotten better – Vonteris
http://powerhandz.com/ (GET YOUR PAIR HERE!)
Follow Powerhandz on social:
https://www.instagram.com/powerhandz/
https://twitter.com/POWERHANDZ
JOIN THE 3030 ACCOUNTABILITY CLUB
Does the following sound like you?
- Need motivation, support, and guidance in your pursuit of fitness
- Looking to get in-shape for an upcoming event or activity?
- Unsure of how to get started and what to do?
With a combined 50+ years of experience Weight Training, Ironman Triathlon racing, Bodybuilding, and One-on-One Coaching, the Endurance Hour Team of Dave Erickson and Wendy Mader can help!
We will send you a new 30 minute workout everyday for the next 30 days to your phone via video/text message (6 Days On, 1 Day Off: Active Recovery)
Here's how it works. You'll first get a personalized video the day before your workout followed by a text version. If applicable, you'll also get a private video link to demonstrations on how to perform each exercise.
Your job is to complete the workout and then text us back photo-proof in the form of watch data, sweaty selfie, equipment display, etc. Your choice. That's it.
It's a daily accountability support system designed to boost your fitness goals, habits and lifestyle. You can do this and we can help!
Choose between two options:
Strength and Conditioning
Equipment: Dumbbells and/or Body Weight
Strictly Cardio (4 Plans)
Run Only, Bike Only, Swim Only or bike/run combo
All Bike and Run Workouts are Based on Your Rate of Perceived Exertion.


Membership is only $59 - All Sessions Begin the First of Every Month - Limited to 20 New Athletes Each Month - Signup Early!