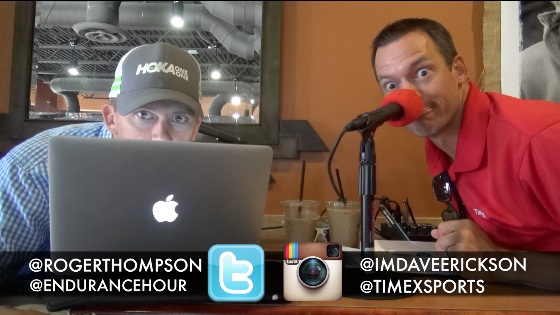 Endurance Hour Podcast #140.6 (7.21.15) This week we celebrate our 140.6th episode! 8x Ironman Champion, Mary Beth Ellis joins us following her 2nd place finish at Ironman Switzerland to discuss her race day, the new Kona Pro Swim start, the 50 Women to Kona campaign and her remaining race schedule leading up to Kona. We discuss and hear from the 'Iron Cowboy', James Lawrence who recently finished 50 iron distance triathlons in 50 days in 50 states. We recap Ironman Canada and talk with Ironman Age Group World Champion, Susanne Davis who just finished her second Ironman in 4 weeks and qualified for this year's Kona plus the challenging weather conditions on the day. Then we wrap it up with a discussion and two age group interviews on the topic of favorite Ironman moments and race venues featuring Bo Parrish and Craig Lanza. Oh, and we're giving away another Timex Ironman ONE GPS+ smartwatch based on Roger's run time in Kona this year. Email Dave Erickson and Roger Thompson at EnduranceHour@gmail.com. Find us on Facebook and Twitter, key word "Endurance Hour" and subscribe via iTunes and/or Stitcher Smart Radio.
Leave us a VOICEMAIL question anytime from your laptop, desktop or cell phone.

If you'd like to be a guest on the show or know someone who should be on the show, email  Dave@DaveEricksonMedia.com with "Podcast Guest" in the subject line.  Brands, Sponsors and Collaborators, please email us with "Podcast Partnership" in the subject line.
The Endurance Hour is a Dave Erickson Media Production.
Connect with the host, Dave Erickson:
Instagram: Here
Twitter: Here
LinkedIN: Here
JOIN THE 3030 ACCOUNTABILITY CLUB
Does the following sound like you?
- Need motivation, support, and guidance in your pursuit of fitness
- Looking to get in-shape for an upcoming event or activity?
- Unsure of how to get started and what to do?
With a combined 50+ years of experience Weight Training, Ironman Triathlon racing, Bodybuilding, and One-on-One Coaching, the Endurance Hour Team of Dave Erickson and Wendy Mader can help!
We will send you a new 30 minute workout everyday for the next 30 days to your phone via video/text message (6 Days On, 1 Day Off: Active Recovery)
Here's how it works. You'll first get a personalized video the day before your workout followed by a text version. If applicable, you'll also get a private video link to demonstrations on how to perform each exercise.
Your job is to complete the workout and then text us back photo-proof in the form of watch data, sweaty selfie, equipment display, etc. Your choice. That's it.
It's a daily accountability support system designed to boost your fitness goals, habits and lifestyle. You can do this and we can help!
Choose between two options:
Strength and Conditioning
Equipment: Dumbbells and/or Body Weight
Strictly Cardio (4 Plans)
Run Only, Bike Only, Swim Only or bike/run combo
All Bike and Run Workouts are Based on Your Rate of Perceived Exertion.


Membership is only $59 - All Sessions Begin the First of Every Month - Limited to 20 New Athletes Each Month - Signup Early!
Podcast: Play in new window | Download